S&W Shield w Tuck and Roll IWB Holster 9/40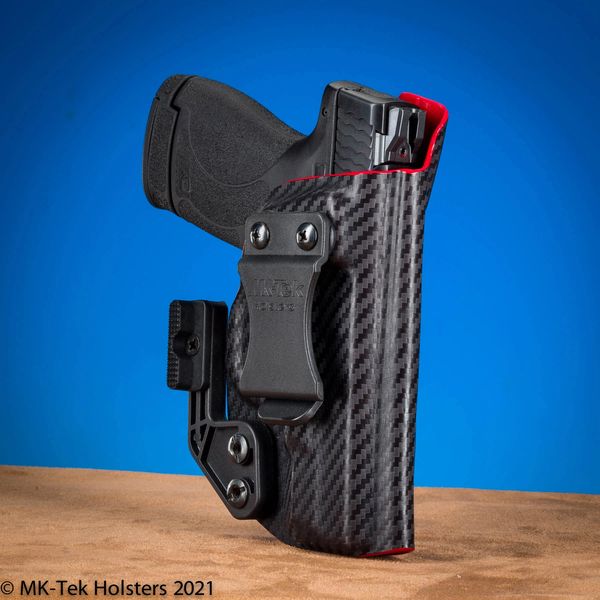 S&W Shield w Tuck and Roll IWB Holster 9/40
S&W Shield 9/40 is a popular carry pistol. Fits the new Shield 9 Plus 3.1 inch barrel also. Not for the 4 inch version of the Shield.  The new "Tuck n Roll" holster from MK-Tek holsters allows the pistol to be carried AIWB or IWB. This holster features our unique design "Tuck"s the top of the holster into the body more and "Roll"s the grip into the body to have less printing of the pistol through your shirt.  This holster can be worn comfortably at 3:30 or 4o'clock and at Appendix carry.  Now you have less to worry about that the grip will print through your shirt when you don't want it to be seen.  Available with or without the "Tuck n Roll" feature

Comes with a 0 or 15 degree forward cant on our Regular Clip.  The Fabric Clip can have a 0 or 10 degree cant.  Touchable Clip option allows you to Tuck your Shirt in.
Add aMagazine Carrier at a discounted price.
Left Hand version will have a Protected Magazine Release.  The Belt line usually causes Magazine Release button to be engaged.  on Lefty Models we cover the Magazine Release to protect that from happening.
A full sweat shield provides all day comfort.  Comes with options for right and left carry, 1.5 inch belts and 1.75 inch belts.  
Now making the Shield Tuck N Roll with our Fabric Clip option for No Belt Needed Concealed Carry.

Reviews