Glock 19 w Olight PL Mini IWB Holster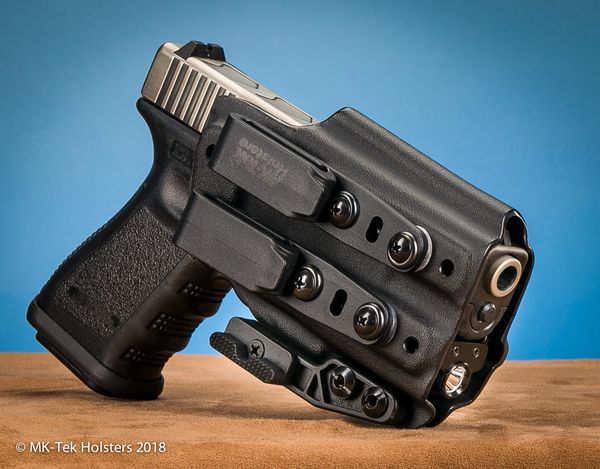 Glock 19 w Olight PL Mini IWB Holster
Glock 19 with Olight PL Mini IWB Holster for concealed carry.  This holster has options.  Fits G23 also.  This powerful little light deserves a good holster.  
The Holster comes with a Concealment wing installed to reduce printing of the grip.  Available with two wing height adjustments.  We install the shorter of the wings.  
The Belt attachments options include very strong and durable Grip Hooks and our standard Belt Clip.  Adjustable for Cant with our Regular Clip.  Adjustable for Ride Height and Cant with our Grip Hook option.  If you have a 1.5 inch belt, we suggest for the Grip Hook option you get the 1.75 inch Grip Hooks.  Our Grip Hooks are also Tuckable.  You can tuck your shirt in with this option.
The Retention is user adjustable for the amount of retention you desire.
Open end to allow for Threaded barrels.  Suppressor height sight channel.  Let us know how tall your sights are in the Notes section.

All edges are smoothed and polished.  See the video review below.
Reviews