Holster Ride Height is an important part of the holster selection process. If you can not get the handgun out of your pants the ride height is too deep. Conversely, if the Holster is digging into your side the ride height may be too high. Not ever handgun is suited for each type of ride height. Some models of holsters we currently only offer one option. If you have specific needs, let us know.

Here is a guide to how we determine ride height. The trigger guard is the guide.

1. The bottom 1/3 area of the trigger guard is considered High Concealment / Ride Height.
2. The top 2/3 area of the trigger guard even with the top of your belt line is considered and Normal Ride Height.
3. The Top of your trigger guard area is considered Deep Concealment or Deep Ride Height.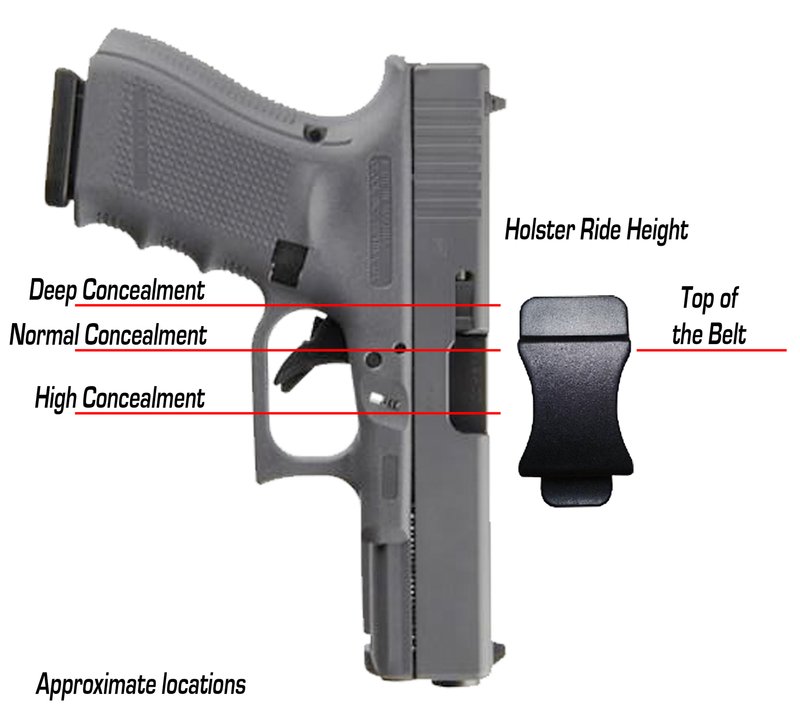 Holster Cant
Carrying a holster up front at Appendix carry, the holster should be setup with Zero forward cant. This allows the user to get a proper purchase on the grip. When the holster is worn behind the hip for IWB Carry the holster should be setup with a 15 degree forward cant. This allows the user to get the proper grip on the handgun while drawing from the holster. it presents the grip at the proper angle so you do not have to bend your wrist at an unusual angle.

Beltless Clip Options
Some concealed carry users do not wear a belt. We find that many women do not wear a belt in their everyday life. This really makes it difficult for them to carry a handgun. We have a couple of options to help people carry concealed, while not wearing a belt. One of our clips is a metal clip that is capable of clamping onto fabric up to 1/4 inch thick. Some users will wear a belt over the clip also. This Beltless Clip option leaves the smallest foot print on your pants that hides. You can also tuck your shirt in using the Beltless Clip options. The other Fabric Clip we offer is suitable for larger framed handguns. It is a molded injection blend Clip. very strong and flexible. Either clip allows the user to wear the holster in multiple locations with multiple cant options.

Sweat Shield
Just as in the name, it does what it says it does. It is a sweat shield to protect the body side of your handgun from body sweat. A full Sweat Shield can always be trimmed and polished. A minimal Sweat shield can not be grown. Most sweat shields also protect any of the firearm controls such as Safety, Slide Release lever and Take down levers or DE-cockers.